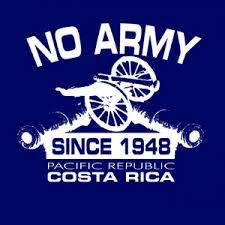 After three weeks in Costa Rica it has occurred to me that, aside from the physical beauty, the concept of civility is what has struck me most. This should not come as a surprise, considering this country celebrates the disbanding of its military in favour of education. I'll provide more about this in a future post.
There are two kinds of driving in Costa Rica; highway and very narrow winding roads. The greater San Jose area seems to have long ago surpassed its maximum number of cars, resulting in streets chock-full of stationary cars, buses, and trucks. I highly recommend visiting the capital, just don't bring your car.
The more rural areas feature winding roads without, for the most part, sidewalks. These streets weave in and out and up and down, and are shared by both vehicles and pedestrians which seems to me to be a recipe for disaster. Yet somehow it works.
The civility of which I write is well illustrated in the Costa Rican driving customs. Given the nature of the road layout, many merges exist. A driver giving another a chance to join the main flow of traffic is shown appreciation not by a wave of the hand, but by a short two-note toot on the horn – think Road Runner, not New York cabbie – and, once fully ensconced in traffic, a momentary display of four-way or hazard lights. Very civilized indeed. I'll save my motorcycle tirade for another post!!